Rabies vaccination dog and cat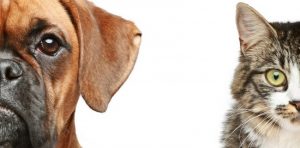 Rabies is a 100% deadly disease of cats and dogs. Rabies vaccination is mandatory for cats, dogs and ferrets .What are rabies vaccines used for?Monovalent (rabies only) or polyvalent (rabies and other diseases) vaccines are used to protect against rabies:
Rabizin (Cats, Dogs, Ferrets)
Eurikan DHPPiLR (Dogs)
Nobivak Rabies (Dogs, Cats)
Defensor (Dogs, Cats)
All presented vaccines are imported, their cost and quality are about the same. But if you make a choice, then the best in our opinion is Rabizin:
Millions of vaccinated animals around the world
No problems with export abroad (subject to all rules for import and export)
Immunity for 7 days
Duration of immunity against rabies – 3 years after vaccination
When to get a rabies vaccine?
The first rabies vaccination is given to all dogs, cats and ferrets at 12 weeks (3 months). At an earlier date, only animals are vaccinated in areas where quarantine for rabies has been declared. This will require repeated vaccination at 12 weeks.
Standard schedule and vaccination scheme for dogs, cats and ferrets against rabies
First vaccination – 12 weeks
Second vaccination – 12 or 15 months
Further annually, every year *
Some vaccines give immunity up to 3 years after the second vaccination at 12 months, for example, Rabizin vaccine, but annual vaccination is mandatory in Russia.
Do not violate the rabies vaccination schedule! The longer you break it, the more risk you put your pet, yourself and your loved ones!
Quarantine after rabies vaccination
After the first vaccination at 12 weeks, a quarantine of 2 weeks is required. During this period, the pet is not recommended to be taken outside (it is forbidden to walk in places where other animals are walking), contact with unvaccinated animals is not allowed.
Dog and cat after rabies vaccination
After the first vaccination, quarantine is required for 2 weeks. Local and systemic adverse reactions are also possible. That is why it is highly recommended to carry out vaccination in a veterinary clinic.
Where to get a rabies vaccine?
We recommend vaccination in a veterinary clinic for the following reasons:
The doctor will assess the state of health before vaccination and will be able to identify hidden diseases. Only healthy animals can be vaccinated.
Vaccination in the veterinary clinic – the official. All necessary marks will be made in the veterinary passport (in the first vaccination the veterinary passport will be issued). Officially issued vetpasport is required if you are transporting a pet or if it bites someone.
If the side effects of the vaccination field occur, the veterinarian can quickly deal with them.
The vaccine requires special conditions of storage and transportation, proper administration. In the veterinary clinic, all these conditions are met.
The veterinarian at the reception will select the vaccination scheme and the optimal vaccine personally for your pet.
You can get advice on the care and maintenance of your animal during vaccination.
How much does a rabies vaccination cost to a cat, dog, ferret?
The price of a rabies vaccine consists of the vaccination service (animal examination, assessment of his health) and the cost of the vaccine. Prices for vaccination of dogs, cats and ferrets. You can also sign up for vaccination and find out the cost by calling around the clock or using the online form.
Side Effects and Complications of Rabies Vaccination
Rabies vaccination is generally safe. The likelihood of side effects is extremely low if you choose quality vaccines – the likelihood of side effects is a fraction of a percent.
At the Constellation Veterinary Center we conduct hundreds of vaccinations per month and know how to reduce the risk and how to get rid of problems if they occur.
The following side effects are possible immediately after rabies vaccination:
Anaphylactic shock, manifested as a violation of the respiratory and cardiovascular systems. Occurs in the first hour after administration of the vaccine.
The following symptoms may occur:
Vomiting
Diarrhea
Cardiopalmus
Weak pulse
Pale mucous membranes
Lethargy and apathy
If you find a deterioration in the health of your pet after vaccination – immediately contact the veterinary clinic!
Delayed side effects in dogs and cats after vaccination
Tumor at the vaccination site
Cramps
Autoimmune diseases
Chronic digestive problems
Limb weakness